The Medical Clinic offers a wide range of services to registered UNC Charlotte students. Services are provided by appointment for in-person and virtual visits*. Most services are covered by the Health Fee paid with tuition; however services such as laboratory testing, X-rays, and some medical procedures and specialty clinics are performed with associated fees. We welcome and respect the needs of a diverse student population within a safe, supportive, and confidential environment.
*Virtual telehealth visits are available for certain reason types.
For more information on after-hours options, please visit our After-Hours Resources page.
Please note, the Student Health Center does not provide class excuse letters for routine illnesses or injuries.
Preventive care and health maintenance services, such as annual physical exam with lab evaluation, consultation, diagnosis, treatment, and follow-up of acute illness or injury, such as the common cold, influenza, skin conditions, abdominal pain, headaches, asthma, pneumonia, sexually transmitted infections, and back pain. There is no charge to see a provider; however, fees for other services such as laboratory testing or X-Ray imaging may be charged.
Continuing care for orthopedic injuries and problems that fall beyond the scope of general care. Referral and appointments are required.
Services include cervical cancer screening (Pap smear), colposcopy, contraception management, and testing for sexually transmitted infections. An appointment is required.
Nurse Clinic is staffed by Registered Nurses who provide outpatient nursing services to patients requiring limited services, such as pregnancy testing, wound care, or certain approved injectable medications. The nursing staff also perform initial nursing assessments to determine the extent of illness or injury in the event a patient with an urgent medical need presents to the health center without an appointment.
Allergy injections are provided to patients in the build-up or maintenance phases of immunotherapy. The Student Health Center does not provide allergy testing. Please refer to the allergy clinic under immunizations for more information.
Students planning to travel or study abroad can receive current travel information and vaccination recommendations for their specific itinerary. An International Travel Immunization Record is also available, upon request. Please refer to the travel clinic under the immunizations section for more information.
A Registered Dietitian is available for individual student consultations. Please see the Nutrition page under the Nutrition section for more information.
Our psychiatrist offers psychiatric evaluations, medication evaluations, and on-going medication management. Medication management can include treatment for depression, anxiety, difficulty sleeping and other conditions. Psychiatric services are free. Patients are referred to the psychiatrist from a counselor at the UNC Charlotte Counseling and Psychological Services (CAPS) or from medical providers at the Student Health Center.
Routine diagnostic testing is performed. Orders for lab work are accepted from both in-house and outside physicians. There is a fee for lab work performed.
Orders for x-ray images are accepted from both internal healthcare providers and outside physicians. There is a fee for all x-ray exams. An appointment is required.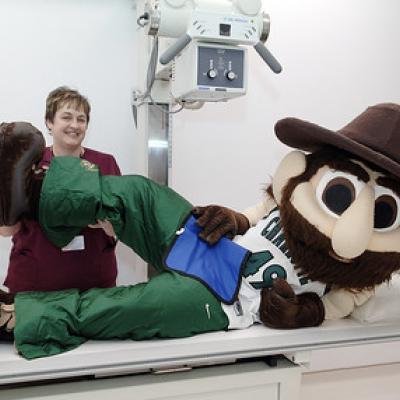 Sexual Health/STI Screening Services
Confidential services are provided for patients seeking evaluation, screening and testing for sexually transmitted infections, including HIV. Call 704-687-7400 for an appointment.
For more information on Sexual Health and Safer Sex, visit the Center for Wellness Promotion.
Incident reporting and Worker's Compensation
For more information about our services, call 704-687-7400.